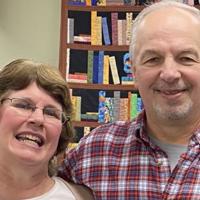 A children's drive-in is planned at the Commerce Public Library | JacksonHeraldTODAY
A children's drive-in is planned at the Public Library of Commerce on Saturday, February 26 at noon in the library auditorium.
Boxes will be provided for children to create their own car in which to enjoy the film. Snacks will also be provided.
Adult writers meet on Tuesday, March 1 at 10:30 a.m. Visitors are always welcome to come and see how memoirs are written in this group, organizers say.
The newest fairy tale now in the children's library is "Rooster Wore Skinny Jeans" by Jessie Miller. It is described as "a hilarious tale of self-acceptance, resilience and the joy of standing out". After reading the story, children are encouraged to use the flannel board to dress the animals.
A selection of children's fairy tale stories are already on display, but soon there will be an exhibition of children's narrative non-fiction or "picture science". For adults in March there will be an exhibit for Women's History Month.
Looking ahead, there will be many new programs during the month of March. A beginner's computer course will begin on Tuesday, March 15 and will be held from 1 to 3 p.m. for three consecutive weeks.
There will also be a financial Q&A program on Thursday, March 24.
The Korean program for the month of March will take place on Tuesday, March 15 and will be held at 11:30 am. Battery-powered cars will be explained during the program, and families who attend will receive a battery-themed Lego car kit to take home. residence.
More information on each of these programs will be in future press releases.
A walk-in retirement party was held for children's librarian, Catherine Harris.
"A special thank you to everyone in the community who came out to pay their respects to Ms. Harris at her walk-in retirement party on Wednesday the 16th," said library manager Angel Abounader.
New adult fiction now includes: The Lady's Mine by Francine River, Other People's Clothes by Calla Henkel, A Game of Fear by Charles Todd, A Call to Insurrection by David Weber, Recitative by Toni Morrison, The Christie Affair by Nina De Gramon's , With Love From by Sarah Jio London, Dead Man's Ransom by Ellis Peter and Blood of Elves by Amdrzej Sapokowsi.
The Commercial Library tries to order non-fiction books on a variety of topics that might be of interest to patrons in that area. One source that was recently used to find 15 new titles was a Rotary Club publication. These topics range from preventing the next pandemic to understanding the importance of water, building a better world for all, the student debt trap, and the future of education and schools. There are too many to list here, but a flyer listing all 15 will be posted at the library.
Upcoming programs at the library include the following:
•Saturday 26 February at noon – drive-in cinema in the auditorium.
•Tuesday 1 March, at 10.30 am, Writers for adults.
•Wednesdays at 10:30 am Kidsercise.
•Thursdays from 4 p.m. to 5:30 p.m. Teen Smash.
•Fridays at 10:30 Baby and Me.