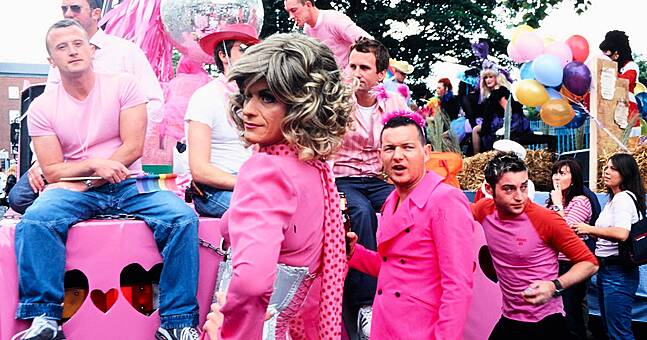 Don't miss the chance to see the National Library's main LGBTI + photo exhibition Living With Pride
[ad_1]
The exhibition on LGBTI + Pride will end on November 21. Photo: Christopher Robson
National Library of Ireland LGBTI + Photo Exhibition Live with pride is a must-see before the exhibition closes on November 21.
A number of events were announced on the sidelines of the exhibition. Online events are free but require participant registration – available here.
The Live with pride program "explores the Irish LGBTI + identity and experience over the past decades and to the present day". It includes an exhibition by Christopher Robson at the National Photographic Archive, Temple Bar.
Robson's work documents LGBTI + life in Ireland in the 1990s and early 2000s, as the community worked for equality. After the exhibition ends on November 21, it will be available online for free.
Living With Pride: Photographs by Christopher Robson is open from 10 a.m. to 4 p.m. Monday to Saturday and from 12 p.m. to 4 p.m. on Sunday.
Famous writer Mary Dorcey joins Live with pride co-curator Tonie Walsh tomorrow night (October 28). The couple will discuss Dorcey's work as an LGBTI + activist and feminist, her explorations of sexuality in her writing and more. The event titled "Foundation Myths and Other Stories" will start at 7pm.
On November 25 at 2 p.m., a live online tour of Robson's exhibition will provide a glimpse of the photographer and his iconic images of the LGBTI + protests, pride and community in Ireland from 1992-2007.
That same evening, Philippa Ryder, founder of Under The Rainbow, and feminist activist and former founding director of women's studies at UCD, Ailbhe Smyth, will speak to "That's So Gay!" which explores the lexicon and iconography of LGBTI + life.
The National Library has published Live with pride events on Youtube including program co-curator Bill Foley with Aifric Ní Chríodáin's conversation about identity, representation and creative expression with street artist Joe Caslin. Live with pride is part of the National Library's year of LGBTI + events.
[ad_2]