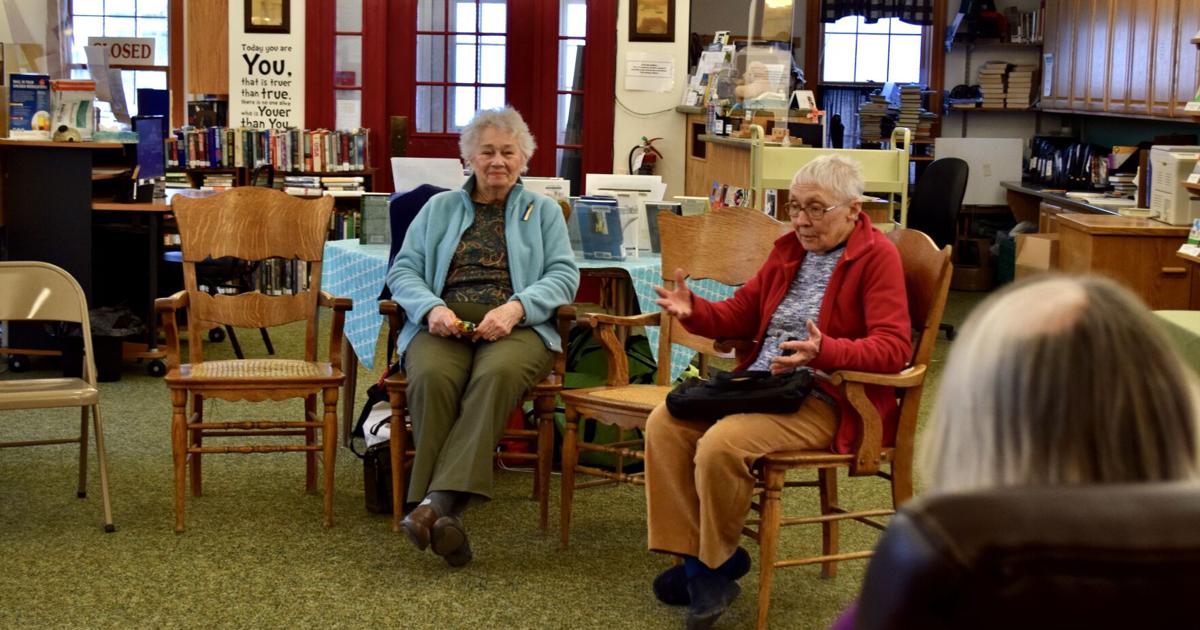 Enosburg Public Library will open a new senior lounge once a week starting in June | News
ENOSBURG FALLS – From June, anyone over the age of 65 will have their own private place in the Enosburg Public Library where they can play cards, do crafts and meet friends.
"With COVID-19, we have become much more aware of how older people need the community," said director Brenda Stanley. "We're talking about a demographic that in many ways our community has overlooked."
Thanks to a $3,000 Librarians Transforming Communities grant awarded in December by the American Library Association, EPL has some extra money to spend on improving its offerings. And Stanley said she wrote the grant application specifically with older people in mind.
Last week, the library invited senior members of the community to two forums on how to tailor the library's offerings to their needs. Several seniors attended each session at 10 a.m. and 2 p.m. to share lemonade and pastries and talk about what they wanted from their library.
"Your timing couldn't be better, Brenda," said Betsy Reed, one of the forum attendees. "We come straight out of isolationism.
"And with the isolation, some older people will never go out again," added Linda Epley.
Forum topics included a trade show, legal advice, fraud information and help understanding smartphones.
"I need help tech-wise," Reed said. "I want to have a basic phone, but I don't need Twitter or anything…I just need to be able to get one to work, and I have no idea. "
"Once in a while I take a really good picture [with my phone], but I don't know how I did it," Epley added. "I take a lot of photos of my shoes."
Participants agreed that technological assistance and know-how would go a long way to increasing connection in the face of isolation, they said. They wanted to know how to put photos on their computers and print them out so they could frame them, as well as how to identify misinformation.
Reed also mentioned that she would like to learn more about other cultures and politics, and hosting speakers at the library would draw crowds. A seniors-only book club, more large-print books and film screenings would also do the trick, attendees said.
"I want to have my eyes open more often," Reed said.
But everyone's favorite topic was transforming the guest bedroom into a once-a-week, all-day hub where seniors could meet for coffee, Chromebooks or the TV, playing cards and sharing. potluck meals. Next month, the room will become a warm and friendly space reserved for people aged 65 and over, open one day a week. The day is still being decided, Stanley said.
Reed and Epley agreed that information from resources like Age Well would also be invaluable to local citizens, along with information about fraud and how to avoid it. There were also calls for more programming for righteous men, who — especially if widowed or single — become very lonely and stop dating more often. Stanley said the library is contacting the Vermont Department of Fish and Wildlife for programming ideas.
Stanley and Deputy Director Lisa Smith said last week's forums were extremely helpful in gathering data on processes and the perception of their readers. They hope that people will continue to give their opinion.
Whether it's a gardening, quilting, baking and coding club or poetry readings, EPL is constantly looking for new ways to connect its community.
For now, bibliophiles can look forward to lounging outside on the benches of the EPL while working and enjoying the flowerbeds that will soon be planted. Hopefully, with the help of additional grants, Stanley hopes for octagon-shaped picnic tables that will provide even more space for families to picnic and dive into another exciting and adventurous tale.