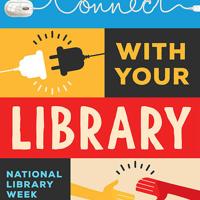 National Library Week runs April 3-9 | News
LENOIR – Public libraries, home to centuries of learning, information, history and truth, are important advocates for education and literacy. Librarians ensure that knowledge continues to be recorded and saved for the future, even as information storage devices and formats are constantly changing.
National Library Week (Sunday, April 3 through Saturday, April 9) is a time to celebrate our local and national libraries, the contributions of librarians, and to promote library use and support.
"We plan to have an exhibition that will feature fiction and non-fiction titles that have themes about connecting with nature, people, devices, and yourself, as well as titles that spotlight libraries and librarians," said Janet Fore, Adult Services Librarian. for the Caldwell County Public Library. "As part of the exhibit, patrons will have the opportunity to fill out a comment card to tell us how they connect with our library. All entries will be put into a draw for one of three Starbucks gift cards.
According to the American Library Association (ALA), the theme for National Library Week 2022 is "Connect With Your Library," which promotes the idea that libraries are places to connect to technology using broadband, computers and other resources. Libraries also provide opportunities to connect with media, programs, ideas, and courses, in addition to books. More importantly, libraries also connect communities to each other. Overall, the theme is an invitation for communities to join, visit or advocate for their local libraries.
During the pandemic, library workers continue to exceed the demands of their communities and adapt resources and services to meet the needs of their users during these challenging times. Whether people visit in person or virtually, libraries offer endless opportunities to transform lives through education and lifelong learning.
First established in 1958, National Library Week is sponsored by ALA and observed in libraries nationwide each April. All types of libraries participate, including school, public, university and special libraries.
"We encourage everyone to help us celebrate National Library Week by contacting us," Fore said. "Stop at the Lenoir Library or the South Branch and check out a book, movie, cake pan, etc."
Call the Hudson Library at 828-728-4207 and order items for curbside pickup.
Consult a book online. Call the Lenoir branch at 828-757-1272 to find out more.
Visit www.ccpl.us to see the latest new books and the online calendar.