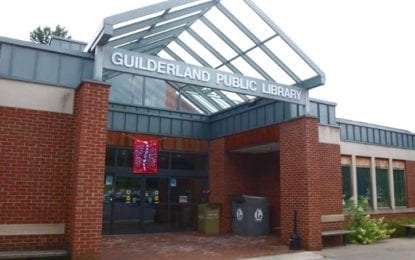 Rethinking Thanksgiving – Spotlight News
GUILDERLAND– Is there more to the Thanksgiving story than the traditional narrative?
The answer is a resounding yes, as said from the perspective of Native Americans. This lively and informative in-person presentation on Sunday, November 6 at 2 p.m. will highlight the actual events in Plymouth in 1621; the relationship between English settlers and the Wampanoag; and how that story evolved into the party we know today.
Presenter Perry Ground is a member of the Turtle Clan of the Onondaga Nation of the Haudenosaunee (Iroquois) Confederacy. He has been a storyteller and educator for over 25 years and enjoys teaching all ages about the history and culture of Indigenous peoples. This program is recommended for grades 4 through adulthood. Please register on the Events tab of guilderlandlibrary.org.
Early Voting for General Elections
Polling stations are open until Sunday 6 November for early voting in the general election in our Helderberg room:
Saturday and Sunday: 9am-5pm
Monday & Wednesday: 12 p.m. to 8 p.m.
Tuesday, Thursday and Friday: 9 a.m. to 5 p.m.
Election Day polls are open Tuesday, November 8, from 6 a.m. to 9 p.m.
VolunTeen
service project
During the holiday season especially, we are all encouraged to give back. On Wednesday, November 9 at 6:30 p.m., students in grades 6-12 can earn an hour of community service by making cards for the Guilderland Food Pantry to distribute in their Thanksgiving lunch baskets. Please register in advance online to participate.
Family Literacy Program
One of our favorite early literacy advocates, Barbara Lukas of WMHT, returns for an evening of family fun Monday, Nov. 7 at 6 p.m. Each participant will receive a free copy of the book "Barn Dance" by John Archambault and Bill Martin, Jr. We will also perform hands-on literacy activities and an owl headband craft. Please register on the Events tab of our website.
Teen Tech Support Service
National Honor Society students at Guilderland High School are offering technical assistance to our customers on Thursday, November 10, 4-6 p.m. and personal devices. Since no appointment is necessary, please limit your session if other people are waiting for help.
—Luanne Nicholson