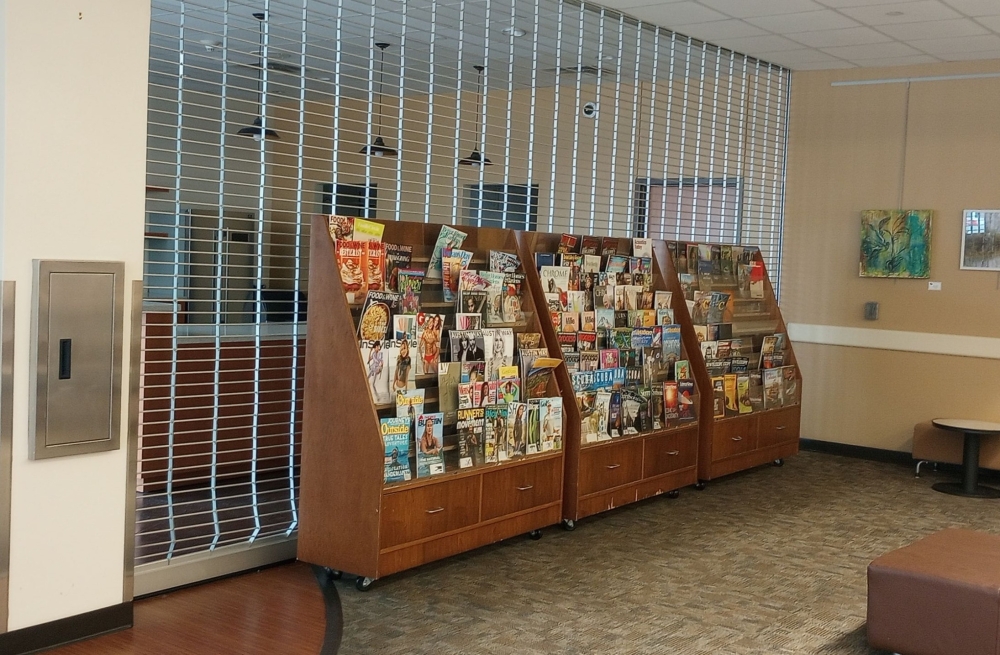 The Little Lemon Cafe is coming to the Georgetown Public Library
The coffee space on the first floor of the East Wing of the Georgetown Public Library has been vacant since Red Poppy Coffee Co. closed in October 2020. (Hunter Terrell/Community Impact)
After a 15 month vacancy, the Georgetown Public Library will once again have a cafe.
The Georgetown City Council approved a partnership between the Georgetown Public Library and Sweet Lemon Kitchen at its Jan. 25 meeting.
"We are so excited to partner with Rachel and Kevin Cummins to open Little Lemon at the library," said library manager Sally Miculek.
The library submitted a request for public proposals in November, after completing renovations to the cafe area. Miculek attracted interest from several vendors, but with the support of her staff and the city council, she chose to move forward with the Sweet Lemon team.
"We want people to be comfortable here, and part of the comfort is having access to food and drink in a friendly space," Miculek said. "Sweet Lemon is known for the quality of its products, the friendliness of its staff, the attention to small details and I think it all goes very well with the library's emphasis on strong customer service and an attitude. friendly towards the work we do."
Little Lemon is expected to open this spring.
The cafe is on a five-year contract with three additional one-year renewal options. The contract also states that the cafe's hours of operation will match library hours, serve as the primary caterer for events, and provide Texas Alcoholic Beverage Commission-licensed bartenders when needed.
Additionally, the city requires that the cafe generate a minimum of $19,493 per year, plus 6% in revenue from restaurant sales. This requirement may be adjusted upon renewal of the mandate.
Rachel and Kevin Cummins opened Sweet Lemon in 2014 as a hostel. They changed their name as a dining and events space in 2016.
Little Lemon at the Library will offer a selection of beverages, pastries and light fare for lunch.