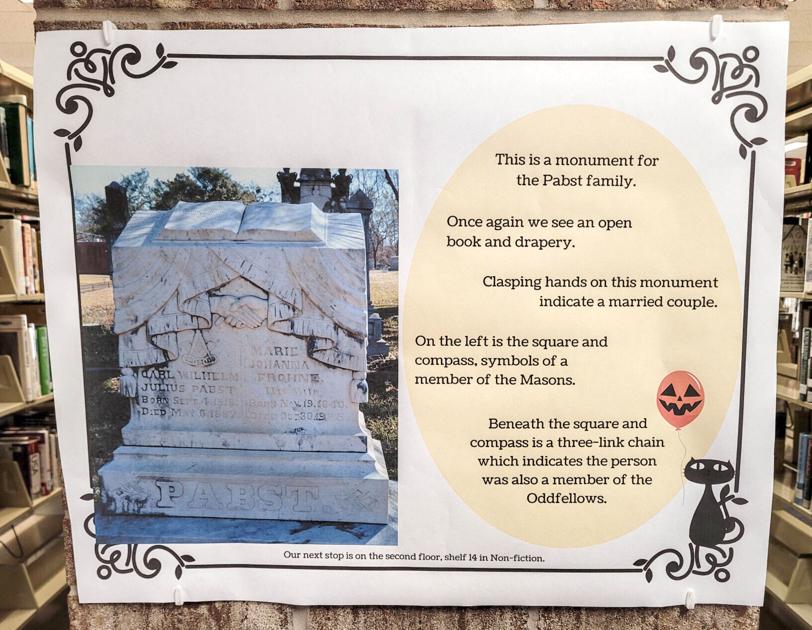 Tyler's Public Library Presents Historic Graveyard at Drop-in Event | Local News
[ad_1]
The Tyler Public Library invites residents to take a walk through haunted history.
Available during library hours throughout October, participants in the Oakwood Cemetery Walkthrough can view a collection of photographs and gravestone engravings from the historic cemetery that are spread out throughout the library.
The cemetery land was originally owned by John Lollar, according to his historic Texas marker. When Lollar sold the land to John Madison Patterson in 1849, five acres were set aside for cemetery use.
The oldest marked grave in the cemetery is that of PM Scott, 4, who died in 1852, according to the landmark. Many Confederate soldiers are buried in an elevated section east of Central Drive. In 1903 the cemetery was named Oakwood.
The idea for the cemetery walkthrough came from Christina Loving, Library Outreach Technician. Loving is a taphophile – someone interested in cemeteries, funerals, culture and death rituals. She came up with the idea of ​​sharing information about Oakwood Cemetery so that more community members could learn about the history of the cemetery right in the center of town.
Although the library has already made tours, it is the first to focus on cemeteries. According to Youth Services Librarian Amy Skipper, there were several reasons the library wanted to go ahead with the idea.
"The Town of Tyler provides many services to the community, and one of them is the upkeep of Oakwood Cemetery. The goal of this guided tour was to highlight the fascinating history of Oakwood Cemetery and to dispel some of the negative associations with cemeteries, "Skipper said.
Skipper also said that while it is fun to tackle the Halloween theme, these events are also a great learning tool.
"Here at the library we value lifelong learning and hope community members who visit Oakwood Cemetery this month enjoy learning about both Tyler's local history and the symbolism of the gravestone, "she said.
The library has several other programs planned or underway for adults and children, including a Haunted House, Dressed to Read (where children can come in disguise and receive a book), Pumpkin Painting Palooza, Pocket Shadow Boxes, Storytelling Hours at the library, outdoor storytelling hours at Tyler Parks, self-guided ghost tour, DinoJam doodle contest and more.
For more information visit TylerLibrary.com or call (903) 593-7323.
[ad_2]