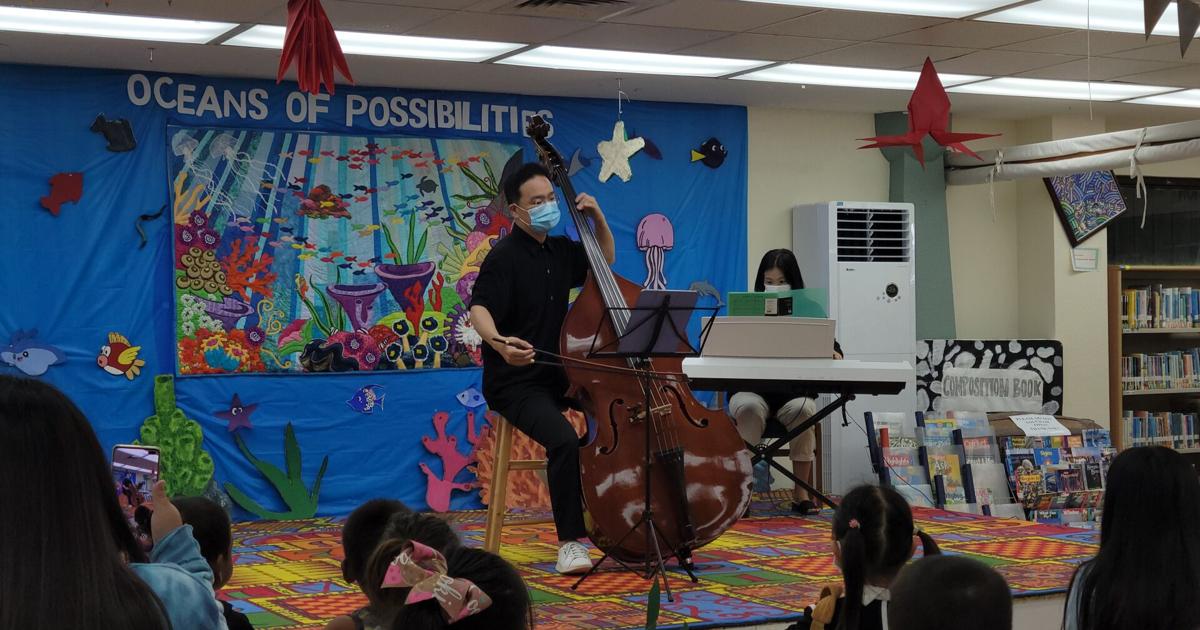 Yale bassist performs at the public library | New
YALE School of Music alumnus Changwoo Sohn played the double bass at the Joeten-Kiyu Public Library on Saturday, hoping to introduce his young audience to the string instrument and classical music.
Sohn, 52, is a professor of double bass at Kookmin University and a conductor and choir from South Korea. He visits his family in Saipan and volunteers at the library.
"I think I have to do something for people, so this is the right place [to do that]", said Sohn.
He has performed at the library many times before as his way of giving back to the community after receiving a full scholarship to Yale to study music.
Sohn spends his days teaching music and sharing it with people he meets, including here in the Commonwealth.
Because the double bass is not usually seen on the island, he felt the need to introduce people, especially the younger generation, to the instrument.
Sohn started playing the double bass at the age of 15.
He said the music he plays has a way of reaching people's hearts.
At the library on Saturday, his sister Eunsil Son, who played the piano, accompanied him during the performance.
Eunsil Son helps run their family businesses, Coffee Spot and the adjacent laundromat, in Dandan.
Sohn said his father, a businessman, brought his family to Saipan many years ago. It is also in Saipan that his sister Eunsil Son and her husband settled.
Among the pieces the brother-sister duo performed on Saturday were "The Swan and the Elephant" by Camille Saint-Saens, "Traumerei" by Robert Schumann and "Promenade sentimentale" by Love Affair.
The performance was part of Joeten-Kiyu Public Library's "Music @ My Library" program, which is free and open to the general public.
For more information on JKPL's programs, visit https://www.cnmilib.org/.